Brand New Courtesy Car
MB Services are delighted to reveal our new courtesy car that we provide to our customers in the event of extended repairs on their vehicles. The car is a 65 plate Peugeot 2008 Crossover in Amber Red. Not only is this car highly practical for both city driving and long distances, it is incredibly spacious and has 5 doors, perfect for families and groups. Our courtesy car is very fuel efficient and will provide you with an enjoyable vehicle to drive while the MB Services team perform expert repairs on your car. Equipped with the latest Peugeot Puretech engine technology, our courtesy car is fitted with the international engine of the year, which delivers an excellent driving experience and performance.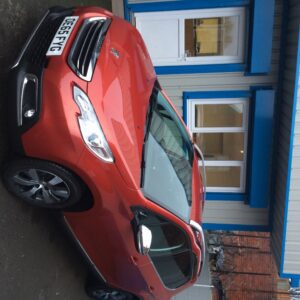 How Do I Hire a Courtesy Car?
Our courtesy car is booked in advance alongside a repair service. Simply let us know that you'll be needing the car when you book in with us, bring in a copy of your photo card UK driving license and the car is all yours. No matter how long the repairs to your car take, we don't set a maximum amount of days that the car is available for lease. Here at MB Services, we always work diligently to get all repairs completed to the highest quality and in the most efficient manner possible, but we never sacrifice quality for speed. When you hire the courtesy car from us, we will give you an estimate as to how long the repairs are likely to take, and will always do our utmost to keep to this estimate.
Our Insurance Package
When you hire out our courtesy car, there is £12 insurance fee that comes with a £500 insurance excess. This covers you in case of an accident with the courtesy car. If you require further information regarding the car, don't hesitate to get in touch with our team and we will answer all your questions. MB Service have been providing some of Sheffield's most trusted vehicle services for years, providing a professional, honest and above all, high quality service that you can trust.