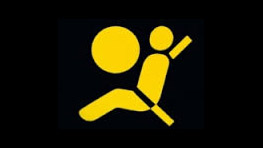 The Airbag Warning Light is the light that displays a person sat with a seat belt fastened, with a circle in front of their body.
The computer system in your car checks your airbags when you get in the car, and the airbag warning light will come on for a couple of seconds before turning off. The airbag warning light will only stay on if there's a problem with the airbag system in your vehicle.
Airbags may not deploy in an accident if your airbag warning light is on so you should completely avoid driving your vehicle when your airbag warning light is on.
MB Services use Bosch specialist tools to fix your car's internal diagnostic system.
Contact us immediately if your airbag light remains on and our experts will get you back on the road safely as quickly as possible.