MB Services continues to deliver the top car garage services in Sheffield using the very latest Bosch equipment.
What sets MB Services apart from other car garages in Sheffield is, we have the edge provided by the next gen equipment made by the industry experts at Bosch.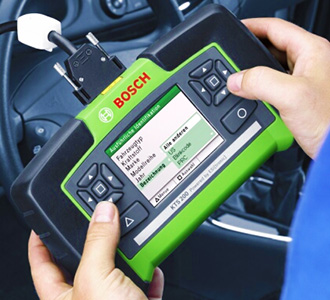 We use the latest Bosch diagnostics technology to provide an excellent swift car repairs service for our customers.
We use the Bosch KTS range which has a variety of diagnostic kits for everything from wheel alignment to engine function and diesel pump repairs. The KTS range also includes equipment for multi-purpose testing. Multi-purpose testing is important for diagnostics to prevent having to use several machines to find one problem. This incredibly handy tool lets us perform your car service more thoroughly, faster, and cheaper than other garages.
Often when an issue presents itself it is unclear what the root cause is. By using a Bosch multi-purpose testing machine like the KTS 340 we can find what aspect of the vehicle is causing the problem before investigating further, with other machines if necessary.
If you're after the very best car servicing in Sheffield, choose the garage with the most rigorous, precise and advanced car diagnostics tech available.
With Bosch KTS diagnostics you can be sure that you are getting a premium quality diagnostics service whatever your vehicle is in for. Contact MB Services today to book an appointment for your car.